Aryabhatta Centre for Nanoscience& Nanotechnology (ACNN)
Center for Post Graduate Studies & Doctoral Research,
Aryabhatta  knowledge University, Patna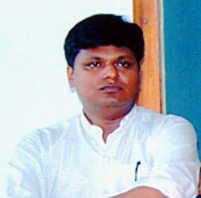 Dr. Rakesh Kr Singh, Doctoral Alumnus of Patna University, and he was born at Kasamra village, Dhamdahablock  of Purnea district of Bihar. At present he is an Assistant Professor cum Professor Incharge - Establishment, in Centre for Nanoscience& Nanotechnology of Aryabhatta Knowledge University Patna . He has also Worked as a Assistant Professor in the Department of Physics, Patna Women's College, Patna University  Since August 2004 to  2013. He did his Ph. D and Post-Doctoral work in Ferrite Magnetic Nanomaterials.  Apart from Teaching-Learning & Evaluation and Co-curricular activities, he has guided,  UGC-Sponsored Research Projects under 'College with Potential for Excellence' (CPE) status scheme, and Basic Scientific Research (BSR), UGC- Govt. of India, Special scheme  (Total Projects: CPE : 09 and BSR : 07 = 16). He has been the Organizing secretary/ Conveners/ Coordinators of more than 60 conferences/ Seminars of International/ National repute along with keen interest in innovative Physics teaching in class room through low cost / No cost experiments. Presently he is working as a principal investigator on a UGC –Minor Research project on rare earth substitute nanoferrite. Dr. Rakesh Kr Singh published more than 60 research publications/ Books/ Chapter in a book on Physics teaching, Research and Popularization in International/ National Journals/ proceeding etc.